Tag archives for launch radio
"Liftoff at dawn! The dawn of Orion, and a new era of American space exploration!" launch commentator Mike Curie said, as the rocket blasted through the clouds just after sunrise at 7:05 a.m. ET.
NASA and its commercial partners are designing Orion to take astronauts to a near-Earth asteroid in the 2020s, and to Mars and its moons in the 2030s. For that reason, NASA portrayed Friday's test flight as a first step toward deep-space exploration. The mission is known as Exploration Flight Test 1, or EFT-1.
"I would describe it as the beginning of the Mars era," NASA Administrator Charles Bolden said on NASA TV.
Orion's flight marked the first time since the Apollo 17 moon mission in 1972 that a vehicle designed to carry humans went beyond low Earth orbit.
Far-out trip
Mission managers said the rocket and capsule performed perfectly during the initial phases of the test. "It was just a blast to see how well the rocket did," said Mark Geyer, NASA's Orion program manager.
After Orion made its first circuit around the planet, the rocket's upper stage kicked it into a second, highly eccentric orbit that looped 3,604.2 miles from Earth. That's 15 times farther away than the International Space Station.
The space station crew huddled around monitors to watch Orion's progress. "Awesome!!!" NASA astronaut Terry Virts tweeted from the orbital outpost.
After hitting the top of its orbit at 10:11 a.m. ET, Orion screamed back toward Earth at about 20,000 mph — which is 80 percent of the velocity that a spacecraft returning from the moon would encounter. NASA's Navias said Orion was projected to experience peak acceleration of 8.26 G's — far more than the 3 G's that astronauts felt during the space shuttle era.
This particular Orion is missing a lot of the components that would be needed for a crewed flight, and it's not carrying humans. Instead, it's outfitted with more than 1,200 sensors to monitor how its communication and control systems dealt with heightened radiation levels, how its heat shield handled the re-entry temperatures, and how its parachutes slowed the craft down for splashdown.
Only one glitch came to light: Two of Orion's five airbags didn't fully deploy after the splashdown, but the three that did were enough to keep the capsule floating upright.
Two Navy recovery ships — plus a complement of smaller boats, helicopters and a camera-equipped drone — began efforts to pick up the capsule and bring it in to Naval Base San Diego. From there, the spacecraft is to be trucked cross-country, back to NASA's Kennedy Space Center in Florida.
Although there are no people aboard Orion, NASA packed a few personages in the payload — including Sesame Street characters and a Captain Kirk action figure. Other mementos flown on the capsule include a Tyrannosaurus rex fossil, an oxygen hose from an Apollo spacesuit and a wide variety of recordings, photos, patches, pins and poems.
Data collected during and after the flight will be analyzed to help the Orion team prepare for the next uncrewed test flight in 2018. A more advanced version of Orion is to be launched by NASA's giant Space Launch System rocket, or SLS, which is currently under development. During the 2018 flight, known as Exploration Mission 1 or EM-1, Orion would fly around the moon and back.
The ride ahead
The first crewed Orion flight is scheduled for 2021, and that could involve sending astronauts around the moon for the first time since Apollo. Farther-out expeditions, including the trip to an asteroid and the buildup to Mars missions, would follow every year or so.
This week's test was managed by Orion's prime contractor on NASA's behalf, Lockheed Martin, at a cost of $370 million. Geyer said developing the Orion spacecraft costs NASA about $1 billion per year, and NASA estimates that work on the SLS rocket will cost roughly $7 billion between now and its 2018 test flight.
NASA has not yet settled on the designs for the landers and space habitats that would be required for a Mars mission, but officials say they expect those components will be ready to go by the 2030s.
Critics have targeted the multibillion-dollar price tag for Orion and SLS, as well as the long development schedule and the anticipated flight schedule. "Committing to Orion is committing to an Apollo-like replay, just as with SLS: Few people, infrequent and high cost," space industry consultant Charles Lurio told NBC News in an email.
At the same time that NASA is funding the development of Orion and SLS, it's also supporting the commercial development of less expensive "space taxis" that would carry astronauts to and from the International Space Station, starting in 2017 or so. In September, the agency set aside $6.8 billion to help SpaceX and Boeing build such space taxis.
SpaceX's billionaire founder, Elon Musk, has said his company's Dragon capsule could eventually be used for missions to Mars as well as for shorter flights.
FMD Presents: "ELEVATE" Youth Convention
November 21-23, 2014
NOTE: First 200 people that register starting today through the 31st will have:
* VIP Access!
* Preferred Seating!
* No Waiting in Line!
Musical Guest:
Jesus Culture
Christine D'Clario
Social Club
YX Worship
Guest Speakers:
Drew Castillo
Andres Bisonni
Chris Durso
Heath Adamson
Location & Accomodations:
The World's Marriot Convention Center
8701 World Center Drive
Orlando, FL 32821
(800) 621-0638
Hotel Rooms $119 per night (Before October 31st)
Registration:
Early Registration $65 (Postmarked by October 3rd)
Regular Registration $75 (Postmarked by October 31st)
Onsite Registration $85 (After October 31st)
THE AFTER PARTY
Late Night Activities
FMD Got Talent
Basketball Tournament
Register Now!
www.fmdyouth.org
Questions: Email or Call
Administration@fmdyouth.org
Tel: 407-222-8886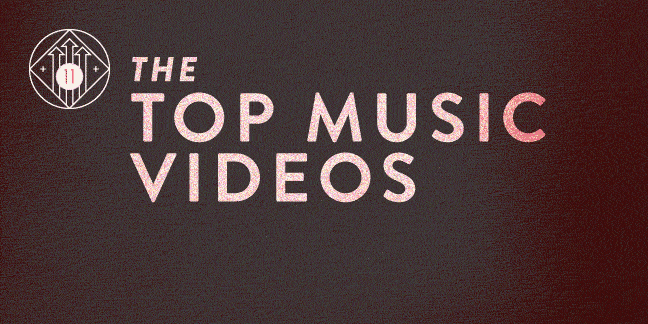 10. "Glorious Unfolding" by Steven Curtis Chapman

he beautifully shot video follows the journey of a young woman on an emotional adventure set up by her father who recently passed away. "This story," explains Chapman, "beautifully mirrors the meaning of the song itself. If we trust our Father, we'll be able to see Him unfolding this incredible story. Even in the hard chapters, the great stretches, we can see its glorious unfolding if we watch for it."
9. "Keep Making Me" by Sidewalk Prophets

Animator Elizabeth Cardella spent more than a year working on this video for Sidewalk Prophets and 175 hours of stop-motion animation. Add in a bunch of flying paint and you have a great creative video.
"I want people to feel something after watching, says guitarist, Ben McDonald. "That's really what the hope is with art. You want people to feel something."
Well, I feel like a lazy moron after watching this! People amaze me with their attention to detail and their craft. And directing art like this to God's glorification makes me rejoice even louder.
8. "We Walk On Water" by Shonlock

Shonlock had me at the wild "run for your life" opening chase sequence through the forest with awesome slow-mo frames. And beautiful, fog-filled lake scenery with cliff-jumping and underwater shots. And boats on fire. FIRE! And actual walking on water. Which is kind of required when you're shooting a video for a song called "We Walk On Water."
7. "Hope In Front Of Me" by Danny Gokey

After spending four weeks at No. 1, this hit song, fueled by Danny's unimaginable heartache over the passing of his first wife Sophia, needed an equally emotional visual punch. But instead of delivering his own story on film, Danny tells the stories of others finding hope in situations of hopelessness while he performs in the middle of the street in all his low, V-neck glory. Watch out for those country drivers, Danny!
Added "cool-factor" bonus: NRT's very own, Caitlin Lassiter, who is finding hope daily while struggling with chronic illness and pain, makes an appearance in the fan version of the video around the 2:28 mark!
6. "VIP" by Manic Drive f/ Manwell

Manic Drive actually makes roller skating look cool and they are having a blast doing so. Thankfully, I can watch and laugh in the comfort of my office instead of having to huddle in the corner wondering what compelled me to lace up in the first place.
5. "Not Gonna Die" by Skillet

Directed by Joey Papa and produced by former Skillet guitarist Benjamin Kasica, Skillet's most recent video from their album, Rise, finds the band delivering a hard rocking performance against a white backdrop while a story unfolds centered on a woman in a series of different realities fighting for her life. Frontman John Cooper recently told Loudwire, "Filming 'Not Gonna Die' was especially cool because we have not done a video with such a surreal storyline. This is my personal favorite song on the record so I'm pleased that the video captured the drama of the music."
So what does it all mean? Well, um… it looks pretty cool! (But seriously, what does it all mean?)
4. "BZRK" by Family Force 5 f/ KB

There are few bands that have amassed a video catalog as high quality as Family Force 5's. "Zombie," "Cray Button" and "Wobble" were a video trifecta last year in my book, so I was excited to see what else they had up their neon colored, pin-striped sleaves for "BZRK." Disappoint, they did not.
3. "Ready, Set, Go" by Royal Tailor f/ Capital Kings

They are incredible, and front-man Tauren Wells has some of the best moves in the biz, with a voice to match.
Because this video is approaching 1 million views, there's no longer a need to educate the audience. This is definitely a page I'm excited to see we're all on. So excited in fact, I could do a back fli… aw, who am I kidding?
2. "When the Crazy Kicks In" by Francesca Battestelli

Katy Perry does it. P!nk does it. Lady Gag-me does it. It seems like the first thing they teach you in "Female Pop Videos 101″ is the art of the costume change. But in Christian music, we're used to seeing our female artists put together in their Sunday bests, behind a mic or instrument, delivering a fine vocal performance like you'd see any night at their live show.
So mad props, literally, to Francesca, who busts out of her on-stage personality and delves into real life, surrounded by kids, managers, photographers and media, all while in her morning slippers and curlers. It's a fantasticly fun video that depicts real life behind the glitz and glamour–and glitter. So much glitter.
1. "Lazarus" by Bellarive

Simply put, you haven't seen a Christian video like this. The song itself is beautifully haunting, telling the miraculous story of Lazarus and how it parallels our own salvation story. The video is a pure creative force that captures you on the first frame and doesn't let go.
Trip Lee's fifth album, Rise, finds Trip linking with dope beatmaker Gawvi to uplift his listeners.
"Rise has a lot of different meanings," he explains. "It's a call-to-action to rise from the dead and actually live. We're born spiritually dead, and I'm calling for everyone to become spiritually alive. Secondly, don't wait until later to live the way you were created. God created you to honor Him, find joy, and serve others. Don't sleep on that. Lastly, rise above the low expectations people have."
While Trip's flows at times recall Kanye or Kendrick, the album bumps on its own right, boosted by Lecrae, Andy Mineo and Leah Smith guest features. Ahead of Rise's Oct. 28 release date (next Tuesday), Trip Lee brings you an early listen of his project. Check out the tracklist and stream below; you can order the LP on iTunes here.